Our Victories
See how we've helped out our past clients; each case is unique so it does not mean your case will result in the same victory.
Miami Personal
Injury Lawyer
Life is way too short to be stuck waiting on insurance companies to pay you fairly
If you have suffered serious injuries in a motor vehicle accident in Miami, FL then Nuñez Law will fight for you to get the maximum compensation that your case merits. If you have questions for our personal injury attorney, then call 305-444-4407 to schedule your free consultation with a Miami personal injury lawyer.
Car accident cases are some of the most common types of personal injury claims our law firm handles. There were 62,530 traffic accidents in 2021 in Miami-Dade County, according to Florida's Target Zero Traffic Safety Dashboard. 22,196 of those car accidents occurred within the City of Miami. Motor vehicle accidents can lead to extremely high medical bills and other damages.
Read More Call our law firm today to speak with an experienced attorney if you have questions and want clarification on the legal process and what your rights are. Insurance claims can be complicated, and saying or doing the wrong thing can affect your case. Going through an accident is hard, but an attorney makes sense of the confusion and tells you what to expect next. We offer a free case evaluation, so there is no risk in calling today to find out more about how we can help. Read Less
Client Testimonials
"Friendly staff, great communication the whole time! Very helpful with my case, happy results!"
-Edie Macias
"Very helpful and responsive staff, was very pleased with the results of my accident claim"
-Beatrice Tavares
"Great service, friendly & efficient staff! Would recommend!"
-Chanelle Oladunni
"Bobby is a great human being, and an even better attorney. Highly recommended."
-Daniel Guiteras
"Nunez Law is the best in the business. Mr. Nunez handled my case; the firm displayed loyalty, working on my behalf; professionalism, respect for what I needed to compensate me for my injuries and proficiency in performing their duties in a timely fashion to expedite the case for my benefit and my best interest. Words cannot express how thankful and bless I am to have the firm work on my behalf. Mr. Bobby Nunez and his Assistant, Adriana was outstanding in keeping me abreast on my case and displayed genuine concern for my well-being. I am greatly appreciative and satisfied with their service. I recommend him highly. You are in good hands with this business. May God continue to bless you, Nunez Law firm, as you bless others with your hard work and skills. Thanks so much for everything."
-Bobbie Crews
"This practice is great. They were very compassionate and empathetic towards my family. They settled my case swiftly. Always keeping me aware of what was going on and updated of my status. Definitely recommend this firm for a great outcome."
-yetsie hernandez
"Bobby Nuñez , gisel and the team really help me get this case resolved with a very positive outcome. They always kept me updated about my case and actually do care . I'm glad I came to this law firm every professional and highly recommend it. Very grateful for everything they did."
-jose davila
"Called Bobby when my family member had a crash and him and his staff were able to help immediately - thank God we called his office before dealing with the adjuster."
-Art Cordova
"I was in a car accident . I talked with Bobby the next day. The whole process was a little over 2 years . But that is normal. Bobby and his staff did an excellent job. They managed to get double what I was hoping for. Very friendly and concerned staff with thorough knowledge of where to go and what to do. I highly reccomend Nunez law."
-brandon kitsmiller
"After I got in a motorcycle accident I got reference by a friend to this law firm. I have to say that these people went above and beyond for me specially Adriana, the attorneys assistant. She kept me fully informed about the case at all times and worked really hard in my behalf. I would recommend this firm to any of my friends. They are very professional and very helpful every step of the way."
-Juan rincon
"Friendly staff, great communication"
"Helpful and responsive staff"
"Great Service"
"Highly recommended"
"Nunez Law is the best in the business"
"This practice is great"
"Very grateful for everything they did."
"Thank God we called his office"
"I highly reccomend Nunez law"
"They are very professional and very helpful every step of the way."
3 Steps to Success
Let's work on your case together
Get Your Life Back on Track
3 Car Accident Mistakes to
Avoid Making
Get our FREE guide and learn what not to do.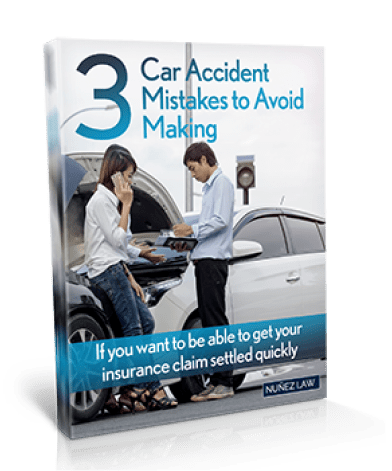 Injuries can greatly limit you! We can make sure you speak with an accident lawyer about your case
We serve all of South Florida! Miami, Broward, Palm Beach, the Florida Keys, and the Naples area.
Can You Sue For Bodily Injury
In Florida?
Yes, you can sue for bodily injury in Florida. Tort law redresses wrong done to a person and provides them financial compensation for the wrongful action and subsequent losses. Reach out to our personal injury law firm if you have suffered damages in a
Car accident
Motorcycle accident
Truck accident
Uber/Lyft accident
Boat accident
Bicycle accident
Pedestrian accident
Slip and fall injury
Wrongful death lawsuit
Our Miami personal injury lawyers get to work proving who is at fault for your accident and should be held liable for your damages. They collect evidence and investigate your claim to determine fault. Then, we file a claim and negotiate with the insurance company of the liable party, also called the defendant.
In any personal injury case, you must prove that the defendant's action/inaction caused the accident and also your injuries. Your personal injury attorney will fight to establish that the at-fault driver failed to act like a reasonable person would have under similar circumstances - this can be in showing that the other driver failed to do something or did something wrong. Drivers owe each other a duty of care, which means that they must obey traffic laws and drive alert and sober. When they don't, they can be held accountable for injuries or property damage that results from their negligence.
Typically, the at-fault party is another driver, but that's not always the case. The manufacturer of a car, motorcycle or truck part could be held strictly liable for any design or manufacturing defects that caused the auto accident, like faulty brakes or tires. A company can be held liable if one of their employees causes an auto accident while working within the scope of their employment. A government entity can be held liable for not maintaining a road with known hazards.
With truck accidents, there could be a number of potentially liable parties. Trucking companies, for example, must abide by federal regulations and can be held liable if they did not conduct thorough background checks on employees. If an investigation finds that a driver had a history of violations that the trucking company did not check or care for before hiring, then the company can be held liable for their negligence - again, it has to be at least part of the reason for the crash.
If you slipped and fell on private property, then the property owner, manager, or landlord is typically held liable for injuries and damages resulting from their negligence. Some of the most common types of personal injury lawsuits involving premises liability are swimming pool accidents, improper maintenance, and slip and falls. If you are thinking about taking legal action after being injured on someone else's property, then talk to our Miami injury lawyer today.
Can You Sue For Emotional Distress
in Florida?
A serious injury causes physical pain and much more. Florida law recognizes the emotional and mental anguish injured victims experience along with their physical suffering (usually with a showing of some sort of manifestation). An accident changes your life in the blink of an eye, and doctors and psychologists agree that the stress of enduring such a trauma takes a toll on the victim and their families.
It is difficult to argue for non-economic damages without strong legal representation. Unlike physical pain that a doctor can explain in concrete scientific terms, it is hard to convey to a jury how much an accident has had on another individual. However, the family, friends, employer and other people who knew the victim can come forward and testify that they have seen a change in the victim since the accident. It is usually the people who are closest to the victim who notice these things:
Read More
Depression
Anxiety
Inability to sleep
Shock
Grief
Anger
Nightmares
Post-traumatic stress disorder (PTSD)
Nuñez Law gets to know our clients personally so that we speak from the heart about how much of an impact the accident has had on you.
Florida is not friendly for claims of infliction of emotional distress due to another party's negligence; and so there are things to look for when making such a claim:
If the plaintiff was at the scene and witnessed their family member become injured or killed
If the plaintiff witnessed a distressing accident
If the plaintiff was close to the victim - sometimes known as the zone of danger
Even though it is difficult to prove emotional anguish, our personal injury lawyer fights hard to do just that. Psychologists know that distressing situations can trigger a host of other problems that manifest in physical symptoms such as unexplained weight changes, developing an obsessive compulsive disorder, insomnia, impaired memory, behavioral changes and other aches and pains in the body.
Read Less
How Is Pain and Suffering Calculated in Florida?
Injury victims are entitled to compensation from the liable party. A personal injury attorney helps you get economic damages and non-economic damages after you have suffered losses - this is usually after it is established that the injuries are permanent and/or continuing in nature.
Economic damages may be awarded in a personal injury claim to compensate the injured parties for their medical expenses, lost wages, future lost earning capacity, property damage and other expenses that they incurred as a result of a car accident or other serious injury.
As the name suggests, economic damages include all of your financial losses. That means that if you have expenses related to your accident, such as childcare or household services, then you should provide receipts or documentation of those expenses to your attorney. If you have relied on public transportation, or needed transportation to go see a medical specialist for your severe injuries, and then let us know right away so we can include those in your insurance claim.
A serious accident can lead to a catastrophic injury or even death. An injury affects the victim's whole family, their career and their future. There is no amount of money that can truly compensate you for what you have endured. However, our personal injury attorneys fight hard to prove these intangible losses are very real to you, and that you deserve the maximum possible.
A personal injury lawyer who gets to know you and can speak with credibility on how the accident has affected you can help you get non-economic damages. More subjective in nature, they are harder to prove. The most common types of noneconomic damages are pain and suffering.
You could be entitled to punitive damages if the defendant in your personal injury case acted with intentional misconduct or gross negligence. Punitive damages are often awarded in cases of outrageous behavior and recklessness, like in fatal accident cases. Attorneys will argue for punitive damages when they believe that they are justified as a deterrent for others who may be inclined to act the same.
For example, punitive damages may be awarded in a drunk driving case, or in a case where it can be proven that a landlord knew that there was a hazard on the property but didn't fix it. In both cases, the individuals breached their duty of care, which is a legal requirement that a person has for others to act with reasonable caution and prudence. When a driver gets behind the wheel after taking drugs, or when a landlord doesn't fix a dangerous problem, they can be held liable for their negligences.
Like non-economic damages, these types of damages are more challenging as one has to proffer that the defendant consciously disregarded the danger(s) to life or limb. When looking for an attorney, you want to be sure that who you hire has a successful track record in personal injury cases similar to yours.
When fatal accidents happen, the surviving family members are left devastated and with questions about what to do next. The spouse, children or parents of the decedent can file a wrongful death claim in Florida. Whether your loved one left a will, we can help you understand what will happen with your loved one's estate and get their affairs in order. The surviving family members are entitled to damages such as:
Medical expenses before the decedent's death
Funeral and burial expenses
Lost wages and benefits, such as health insurance, and pensions
The value of earnings the decedent could reasonably have earned
In addition to these economic damages, the surviving family members can file for types of non-economic damages from the date of death like:
The value of lost support and services
Mental pain and suffering resulting from decedent's injury and death
Loss of parental guidance/instruction/companionship
Your settlement will be based on your economic damages plus your non-economic damages, and maybe even punitive damages (if/when reckless behavior can be established).
How much you can claim is difficult to ascertain because non-economic damages vary greatly in each case due to the nature and extent of injuries, the connection, and how long the recovery process will be. If you have permanent injuries, then your non-economic damages could be greater, and your settlement much higher.
How Long Does It Take To Settle A Personal Injury Case In Florida?
All personal injury claims must be evaluated individually on their own merits, but in general they take 18 months to three years. Our legal team can give you personalized guidance on how long we think your case will be, so we recommend that you reach out to our law firm today.
There are many ways that Miami personal injury attorneys use to prove fault in a car accident. Some of the key pieces of evidence of the gather include the police report, photos of damage done to the vehicles, medical records, witness statements, and the vehicle code. There are several factors that affect how long it will take to settle your case.
Economic damages are paid out by the insurance company. Because the medical bills from catastrophic injuries can be so high, they fight to lower your settlement. Miami personal injury lawyers care about your best interests, but the insurance company is looking out for their business interests.
Under Florida law, personal injury and wrongful death lawsuit must be filed within a certain timeframe. The statute of limitations for general personal injury lawsuit in Florida is four (4) years from the date of the accident - wrongful death claims and malpractice claims have different deadlines, so be sure to speak with a lawyer as soon as possible.
After this legal deadline has passed, the plaintiff does not have any legal recourse available to them. There are only a few exceptions to this rule, which are not very common. Even if you have two or four years, there are benefits to filing sooner. As an example, you can probably resolve your case sooner the sooner you begin the process.
The biggest reason is because the less time between the accident and filing your claim, the less likely the insurance company will be able to blame another incident. If you file a claim over a year later, they can argue that there was another incident that caused your injury. We take care of dealing with the insurance adjusters and proving the facts of your case.
Even though there are many different types of personal injury cases, there are similar types of injuries that can result from any type of accident. Most commonly, victims suffer severe bone fractures, traumatic brain injuries (TBI), spinal cord injuries, soft tissue injuries, dislocations, skin abrasions, bruises, deep cuts and burns.
Contact Us Today
Fill out the form and we will get back to you as soon as possible.
South Florida Personal Injury Law Firm
If you were injured in a crash of fall, call Nuñez Law. If your loved one was killed as the result of another person's negligence, outrageous behavior or reckless conduct then you need an experienced personal injury lawyer to help you file a wrongful death claim.
Many law firms hand off their personal injury cases to junior lawyers or legal aides. Nuñez Law handles each personal injury lawsuit individually. Our legal team is ready to answer any questions you may have about your legal claim. With law offices in Miami, we serve all of South Florida.
Call 305-444-4407 to schedule your free consultation with one of our personal injury lawyers. Our legal team offers services on a contingency fee basis, which means that you do not pay unless your injury lawyer wins a settlement for you.
AccidentLawFirm.com
3191 Coral Way, Suite 405
Miami, FL 33145