Miami is a busy, bustling city. Cars, buses, motorcycles, and pedestrians fill the streets every day. Sometimes, car accidents happen, and those accidents can have dire consequences. Pedestrian accident victims can be left injured or even dead, and they and their loved ones deserve compensation and peace of mind. It can be intimidating, but luckily, you are not alone.
A Miami pedestrian accident lawyer can and will help with the representation you deserve, doing everything they can to help you recover financially from your incident. This post will give you all the information you need to know if you have been in a pedestrian accident in South Florida, and how a lawyer can help you.
Common Injuries in Miami Pedestrian Accidents
Most pedestrian accidents involve the human body being struck by the front of a moving vehicle, so most injuries are associated with that. Broken bones, concussions, neck injuries, and spinal cord injuries are common pedestrian accident injuries, all of which can be expensive and potentially life-threatening.
Miami ranked 14th in the nation regarding pedestrian fatalities, as well. Miami pedestrian accident attorneys will work to make sure your medical bills, lost wages away from work, and any pain and suffering are covered. They can also determine whether or not the person who injured you was criminally negligent.
Who Is Liable for a Miami Pedestrian Accident?
Either party may be at fault in a Miami pedestrian accident, but drivers have an obligation to be aware of their surroundings. If they are driving through an area with foot traffic, they must adjust their speed and keep their eyes open.
An accident resulting in pedestrian injuries is very serious, and the one who caused them must be determined so that proper damages can be paid out. A Miami pedestrian accident lawyer can determine who was at fault, and what steps to take next.
Negligent Drivers May Be Liable for Pedestrian Accidents
As a pedestrian, it is important to follow the laws in place to keep you safe. However, you can look both ways, mind the traffic signs, and still be involved in an accident.
Oftentimes, the driver is at fault, not paying enough attention to the road and those around them. They may be disobeying traffic laws, driving too fast, or under the influence. They have a higher legal obligation to watch out for pedestrians and are more likely to be found at fault. They have the capability to cause serious injuries through carelessness, and if this has happened to you, a pedestrian accident attorney is exactly what you need to set things right.
Suing a Business
In Florida, it is possible to sue a business concerning pedestrian accident cases. If you have been struck by a company-owned vehicle, your pedestrian accident lawyer can pursue legal action against the driver who struck you, or against the company that employs that driver. If the driver was found to be distracted or impaired during the accident, they may be found liable for related damages.
The company's owner may be found liable simply for owning and entrusting the vehicle to the at-fault driver. They can also be responsible for negative entrustment, negligent supervision, or negligent hiring. These usually come into play when the driver was responsible for a prior pedestrian accident case.
When a Product Defect Causes an Accident
A personal injury claim may be made against the manufacturer of a defective product. They are responsible for designing and producing a safe product, so if a vehicle manufacturer releases a car that malfunctions and causes a pedestrian accident case, that manufacturer would be liable for damages.
However, their liability depends on what percent at fault they are, versus the victim. It must be proven that the operator was using the product as intended, without any actions that may have contributed to the malfunction.
Compensation for a Miami Pedestrian Accident
If you are involved in a pedestrian accident, you are entitled to compensation to cover various expenses caused by the accident. Personal injuries result in medical bills and the responsible party or their insurance company is obligated to pay you a settlement covering those expenses.
However, your case can cover more damages than that. Below is a list of possible damages you can pursue in your personal injury lawsuit.
Economic Damages for Pedestrian Accident Victims
Economic damages are plain reimbursements for the damage caused. Medical expenses, lost wages, and damaged property all fall under this umbrella. Any expenses expected in the future, based on the accident, are also included. In the case of a fatality, economic damages also cover funeral and burial expenses.
These are all but guaranteed, but an insurance company may try to offer a settlement lesser than what you could get. Miami pedestrian accident lawyers are experienced in determining how much damage has been accrued in pedestrian crashes and can get you the maximum legal settlement.
Non-Economic Damages
Non-economic damages cover the emotional toll of a pedestrian accident. They are also known as pain and suffering damages, and exist to make sure you are compensated for the suffering endured because of your accident and the legal process afterward.
In the case of a wrongful death, they also cover the toll taken on the survivor's loss of companionship and how much the deceased victim suffered. These are not guaranteed, but a personal injury attorney can consult with you and determine whether these damages apply.
Punitive Damages
Punitive damages are the most difficult to pursue and the most dependent on a good personal injury lawyer. Punitive damages only apply when the perpetrator of a car accident is also guilty of a criminal charge.
Distracted driving, driving under the influence, and dangerously ignoring traffic laws are potential reasons to pursue punitive damages, and can get the driver in serious trouble. Punitive damages are not compensatory but are meant to punish the one responsible. In Florida, punitive damages are no more than three times the amount of other damages awarded, or $500,000, whichever amount is higher.
Should I Hire an Attorney after a Car Accident in Florida?
If you are involved in a pedestrian accident, an attorney is not always necessary. You and the other party's insurance coverage can handle the necessary amounts. However, sometimes things are more complicated legally, as in cases involving physical injuries or a negligent driver, for example.
A personal injury case may be necessary to ensure the compensation you deserve, in which case pedestrian accident lawyers become your best bet. They can determine your pedestrian accident case worth and work to secure that amount.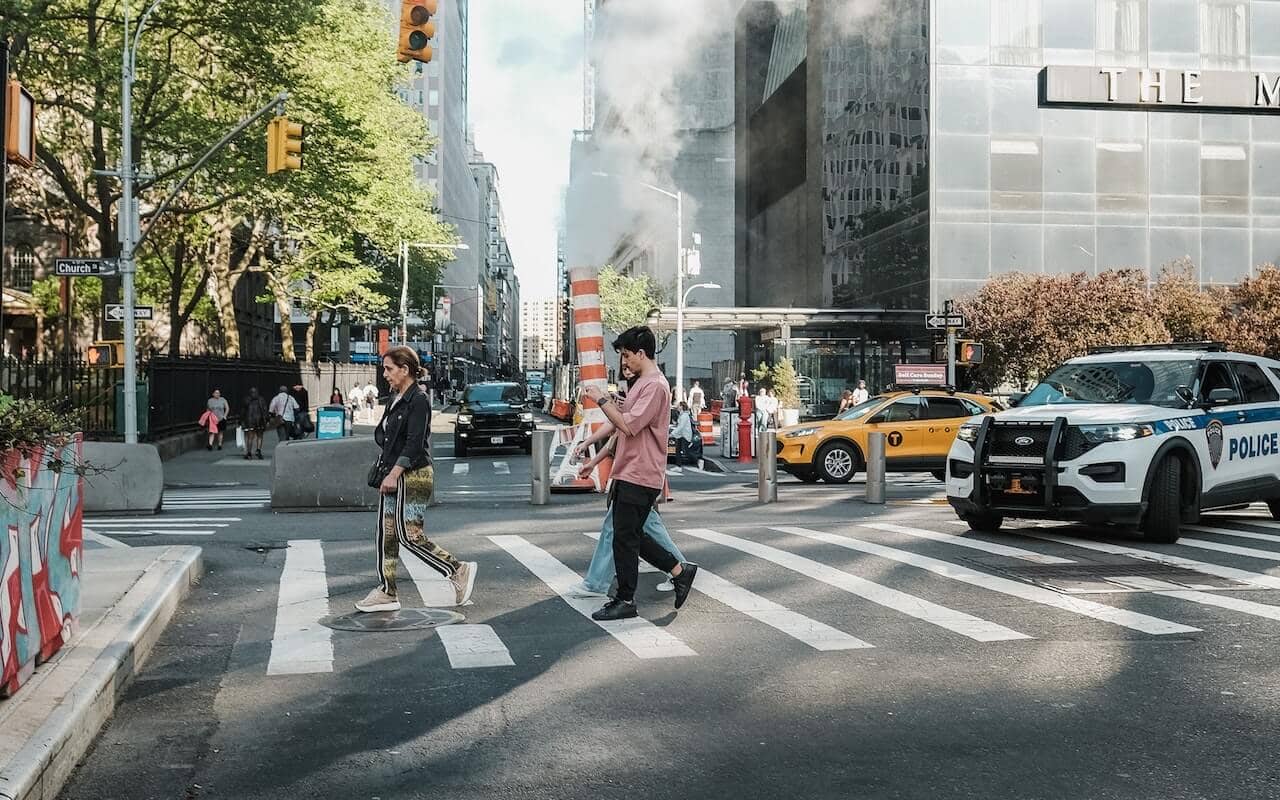 Miami Pedestrian Accident FAQ
How long do I have to file a claim?
If you wish to file a personal injury claim in the state of Florida, you have four years after the date of the accident to do so. Past that point, there is nothing you can do. It is advised to contact a law firm and file a claim immediately, especially if severe injuries are involved.
What if a loved one was killed in a pedestrian accident?
If your loved one is killed in a pedestrian accident, you are allowed to file a wrongful death claim for damages. The damages cover what you have lost monetarily, including the deceased lost wages.
Can a pedestrian be at fault in Florida?
If you suffer injuries in a car accident, the driver of the automobile that struck them suffers fault in most cases. However, the pedestrian can be held at least partially at fault. If the pedestrian was breaking the law in some way, such as crossing when the crossing light is red, they may also be found at fault.
Personal injury lawyers are your best bet here, arguing your percentage of the fault down as low as possible. A personal injury attorney at our firm would be happy to go over the case details with you and provide an analysis of who is most at fault and by how much so you can still receive the bulk of your claim.
What if I cannot afford an attorney?
If you cannot afford a personal injury attorney for your pedestrian accident claims, you can select an attorney who works on a contingency-free basis. This means that if you do not win the case, the lawyer is not paid. If you lose you will not have to pay your attorney fees. Your fee will be based on your winnings. It is important to talk to the law firm about fees and terms before you agree to take them on.
What happens if you hit a pedestrian in Florida?
If you are the driver involved in a pedestrian accident, then you are liable for the damage done to the pedestrian. Fault is determined by the level of negligence involved, based on legal standards. If you were found to be a negligent driver you could be in serious trouble, so be sure to contact an attorney as soon as you can.
Contact a Miami Pedestrian Accident Attorney
If you have been involved in any pedestrian accidents and pedestrian fatalities in Miami, you should contact a Miami pedestrian accident attorney. Nuñez Law is an experienced, respected firm serving the Miami and West Palm Beach area, perfect for pedestrian accident law as well as any other legal matters you may need help with.
Ready to talk with us? Contact us now for a free consultation, and remember to be careful out there.