If there is one thing Miami is not lacking, it is boats. South Florida is full of boat owners, with waters teaming with jet skis, pontoon boats, and even cruise ships. With so many boats in the sea at once, boating accidents are bound to happen.
If you have been in a boating accident, you may need a Miami boating accident lawyer. If you or a loved one have been injured in a boat accident you deserve to be fairly compensated. You could be suffering from serious injuries, resulting in piling medical bills. You could even be dealing with the wrongful death of someone you love.
It can be a scary time, but you are not alone. A Miami boating accident lawyer will work with you to get the settlement you deserve and bring you peace of mind after your harrowing experience.
Common Injuries in Miami Boating Accidents
As much fun as it is to get out on the water, boating accidents are unfortunately common. In 2022, 735 boat accidents occurred in Florida. It is impossible to fully predict the full range of injuries possible in such occurrences, but serious injury is common.
Typically these occur when someone falls overboard, when boats collide, or when a boat capsizes. The most common injuries sustained are:
Spinal cord injuries
Traumatic brain injuries
Burns
Broken bones
Accidental amputations
Serious soft tissue injuries
You can also be trapped underwater, which can result in drowning, or keep oxygen from the brain for an extended period, which can result in permanent brain damage. All of these severely impact your way of life as well as accrue medical expenses that will be difficult to pay off without compensation.
Who Is Liable in a Miami Boat Accident?
In recreational boating accidents, the captain or boat operator is always liable for any accidents that may occur. That includes sailboats, motorboats, and charter fishing boats. Boat owners should be wary when taking their friends out on the water or renting their boat out because whatever happens out there is your responsibility.
If the operator of a boat is found to be intoxicated at the time of the accident, they will be liable for all injuries caused by their criminal negligence. They can also be at risk of criminal charges.
You may have to file a personal injury claim to prove the operator was at fault and seek compensation. You will need to prove that the operator owed you the duty of care, did not fulfill that duty and that this caused you serious injuries. This can be difficult to prove with boating cases, but our Miami boating accident attorneys should have the experience to make it happen for you.
Responsibility for Cruise Ships
Cruise ships, ferries, and other boats meant to transport many people at once are held to a much higher standard of care than personal watercraft and non-commercial boats. This is known as common carrier law, which states that cruise operators and crew need to take reasonable care to prevent injuries and that they have to follow maritime law.
The operator of a cruise ship is liable if they were aware, or should have been aware, of a dangerous situation. If you are injured on a cruise ship you have up to four years to file a claim, before it is too late. However, on some occasions, the contract you sign when buying a cruise ticket may shorten that amount of time.
It is essential to read the fine print before signing anything, as they can include limited liability waivers. With these, cruise lines can avoid certain damages should an injury occur.
Insurance Companies May Not Be On Your Side
If you are a non-commercial boat owner, you should have boating insurance. However, insurance companies are for-profit businesses, and they may not have your best interests at heart. Many may hope that their insurance company pays for their medical treatment, such as spinal cord injuries, but they may try to low-ball you.
If they do, call your boating accident attorneys. A boating accident attorney will be able to get you the proper settlement, to the full extent of the law.
How Boating Under the Influence Can Affect Your Claim
It is illegal in Florida to operate any maritime vessel under the influence of alcohol, drugs, or controlled substances. Any substance that impairs your motor functions can contribute to boating accidents, and oftentimes in serious accidents alcohol is involved. A person is considered "under the influence" when their blood alcohol level is 0.08 or higher, but 0.05 counts as well if there are other contributing factors.
Based on the number of convictions, someone found to be boating under the influence can be fined from $500-$2,500 and imprisoned for six months up to a year. If you are under 21 years old, any amount of alcohol in your blood is illegal.
If you were involved in a boat accident and the operator was found to be boating under the influence, they will be convicted of criminal breach of care. You will likely be able to claim punitive damages, on top of economic and non-economic damages.
Florida Boating Accident Laws
Aside from BUI, there are a number of Florida laws designed to keep you safe in the event of an accident. If the operator of a boat is involved in an accident, under certain conditions they are required to report it immediately. Any serious injuries or property damage exceeding $2,000 qualifies. Failure to report results in criminal penalties, especially if the failure causes the boat accident victim's injuries to worsen.
Just like with a car, a boat is required to have a registration number visible. So just like with a car accident, it is possible to get a boat's registration number after an accident. If you are involved in a boating accident, try your best to get the registration number in the report.
Florida's boating lanes, just like their roads, have posted speed limits. It is the responsibility of a boat owner to follow those speed limits the same as if they were driving a car. If you are driving over the limit, you can hurt someone or be charged with a crime.
What If I am Partly at Fault for my Boating Accident?
It is always possible that you have been injured in a boating accident, perhaps even sustaining serious injuries, and it partially be your fault. If you are worried you will not be able to seek compensation, you may not be as hopeless as you fear. You may still be able to receive payment for your damages, depending on how at fault the court finds you. The court makes their decision based on how much of the blame each party shares, so as long as it is not entirely your fault, you can still receive a diminished payout.
This is a situation where you definitely want a injury law firm skilled in both the personal injury claims and boating accident cases. Attempting to represent yourself in court can lead to expensive mistakes, and not every lawyer will know how to help you or have your best interests at heart.
A Miami boat accident attorney is your best bet in winning the case, getting as big of a settlement as you can manage. You may not get the maximum compensation, but with a little work you will not be going home empty handed.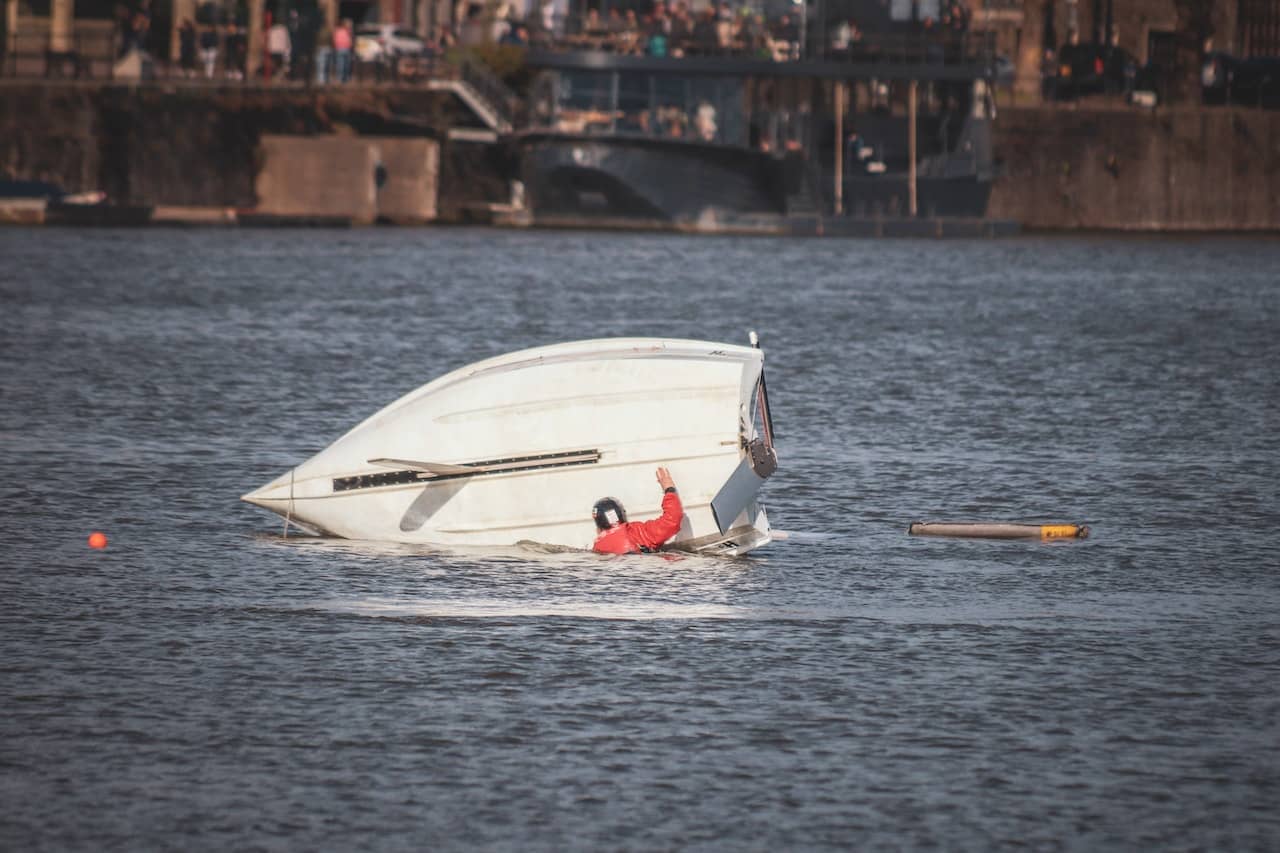 Miami Boat Accident FAQ
When boating accident victims need compensation, they may need help getting answers about their boating injury cases. Unfortunately, you may not have all the answers you need after the accident occurred.
If you are in need of answers and guidance, you may need our Miami boat accident lawyers on your side to guide you. Reach out to our team today, and while you wait, check out our frequently asked questions below to learn more.
What is the law in Florida for boating accidents with injuries?
If someone is injured or killed in a boating accident in Florida, the boat operator is required by law to report the accident to the Florida Wildlife Commission within 48 hours. It is encouraged that you make the report immediately after tending to the injuries sustained.
If you can, you should document the scene as best as you can, with pictures and the contact information of possible witnesses. If you have been hurt in a boating accident you are entitled to compensation, so keep in mind that you only have four years to file a claim after the initial incident.
If the boat operator was under the influence at the time, or otherwise negligent, a negligence lawsuit is possible. Your injury case could include a criminal conviction, according to Florida law.
Who do you report a boating accident to in Florida?
You must report the accident immediately to the Florida Fish and Wildlife Conservation Commission (FWC), the sheriff of the county where the accident occurred, or the police chief of the municipality where it occurred. Unless a police officer has filed a report, you have to fill out a form yourself with the pertinent details, and send it to the FWC.
Once you have reported your maritime accident to the authorities, there may be others you may need to contact about your accident. For example, if maritime workers are involved, or if you suffered a catastrophic injury, you may need to contact one of our Miami boating accident lawyers on your side.
What must you do by Florida law if you are involved in a reportable boating accident with injuries before leaving the scene boated?
You must report the accident as quickly as you can to the FWC and any law enforcement if you suffered injuries during boat collisions. If anyone has suffered catastrophic injuries, it is often best to leave any boat accident victims as stable as possible while the Coast Guard and other emergency boating agencies provide emergency care.
What amount of property damage requires you to report a boating accident in Florida?
Miami boating collisions can be expensive, but in some cases, your hull may have only suffered a few scratches. Boat accident victims are required to report a boating accident if the value totas more than $2,000. If you have suffered damages totaling more than this, or a loved one was killed, contact the authorities and an experienced wrongful death attorney for guidance.
What can I do if a loved one dies in a boating accident?
When a loved one suffers such severe injuries that they turn fatal, you may have grounds for personal injury cases called wrongful death cases. Personal injuries caused to others, however, have specific rules and specific wrongful death damages.
For example, you may not be the one injured, but you may have grounds to sue the cruise line or other boat operators for fatal boat accident cases. Talk to our Miami boat accident attorneys about your options when loved ones suffer fatal maritime accidents.